Prawns marinated in ginger, garlic and touch of Tabasco. Seasoned with zesty lime vinaigrette.
$15
Deep fried, Tuscan battered Calamari rings served with tartare sauce on mesclun.
$12
Chicken drumettes tossed in a house made Guinness glaze and sesame seeds.
$12
Barbeque marinated pork riblets basted with a Guinness glaze, served on a sizzling skillet.
$14
Chips with McDonnells Curry sauce
Beer battered chips topped with tradition Irish McDonnells Curry Sauce.
$12
Hand cut potato wedges baked and deep fired till golden brown, served with sweet chilli sauce and sour cream.
$11
Gourmet straight cut rosemary and sea salt chips deep fried served with honey mustard.
Turkish bread toasted with mix herbs garlic and clarified butter.
$8
The Burgers
Legendary Irish Times Guinness Tower Burger
Our signature char-grilled burger glazed with our secret Guinness sauce and stacked with mix lettuce, tomato, pickles, onion, melted cheese and towered with Tuscan-battered onion rings.
$23
Grilled black Angus beef burger topped with ham, bacon, pinepaaple and glazed with BBQ sauce.
$22
Char-grilled Angus beef burger with roasted bell pepper sauce topped with American cheese.
$22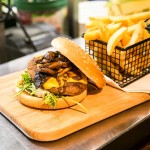 Mushroom Onion Swiss Burger
Try our 200gm Angus beef burger topped with caramelised onion and sautéed mushrooms in white wine with melted Swiss cheese.

$22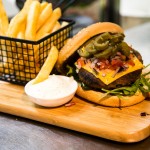 This burger is the perfect choice if you are looking for something zesty. Char-grilled burger topped with melted American cheese, spicy salsa mix, sliced jalapeños.

$20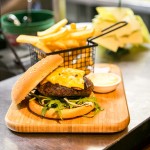 For Aussie meat lovers, this burger is basted with BBQ sauce, stacked with mesclun, tomato, pickles, onion, melted cheddar cheese; crispy apple wood smoked bacon.

$20
The Salads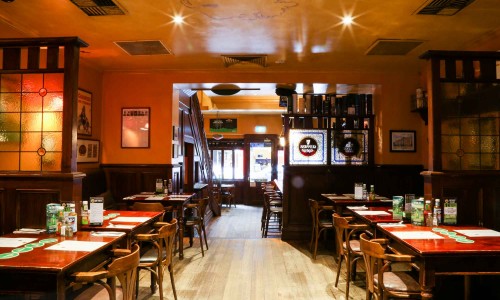 Grilled Lamb tenders marinated with cumin, corriander and Morrocan spices served on a zesty salad and topped with olives, feta and mint Lebna.
$22
Crisp cos lettuce, lightly dressed with our homemade Caser dressing, topped with crispy bacon, egg, herbed croutons and parmesan cheese.
$18
With char-grilled Chicken.......................20
With char-grilled Shrimps.......................24
.
Prime cut beef strips tossed in balsamic glaze on a bed off rocket, tomatoes, onions, and pine nuts.
$21
Deep fired calamari rings served with mixed lettuce, mandarins, and tangy Irish Times dressing.
$20
Irish Times Pork ribs continue to draw the crowds, basted in Irish Times BBQ sauce and grilled until tender. These ribs are taste sensation! Bibs are standard issue for the ultimate rib-tastic experience. Served with chips, sour cream and onions rings.
Full Rack (700gm)........................58
Half Rack (350gm).......................40
.
Moroccan spiced pork cutlet, grilled to perfection and glazed with our signature Guinness sauce served with salad and creamy mash potato.
$32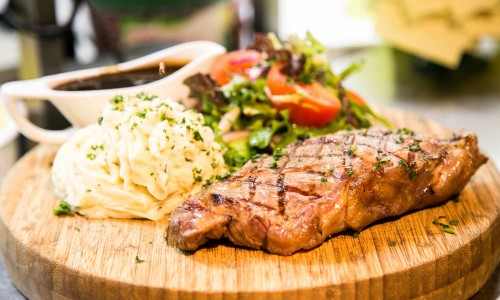 150 day grain fed Gippsland beef marinated with olive oil, rosemary, truffle salt and cracked pepper.
$36
100 day grain fed an outstanding example of rib eye at its best. Well marbled for peak flavour and deliciously juicy
$40
400 day Grass fed, 4/6 marbling, farmed on the South Island of New Zealand, eating nothing but pure New Zealand pasture, this animal has an unmatched tenderness & flavour that can only be produced by cattle fed on New Zealand's grasslands.
$50
King Island Victorian Farms, 140-day grass fed Black Angus Rump sprinkled with truffle salt and char-grilled.
$44
***

All Steaks are served with your choice of one side and one sauce

***
All our sauces are made in-house
Mushroom sauce
Pepper Sauce
Guinness Glaze
Smoky BBQ Sauce
Herb Butter
Rosemary and Red Wine Jus
Onion Gravy
.
Additional Sauces: $3.00
Chefs Veggies.
Creamy Truffle Mash Potatoes.
Tuscan Battered Onion Rings.
Herb butter Green Beans.
Garden Salad.
Side of Fries.
.
Additional Sides: $5
Something Sweet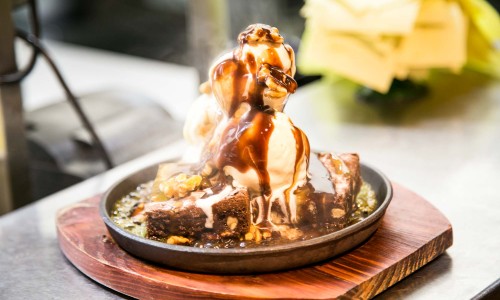 A slice of warm classic brownie with crushed walnuts, a drizzle of hot chocolate sauce, and ice-cream all served on a sizzling skillet.
12
An indulgent combination of warm brownie chunks with chocolate and caramel sauce, between scoops of vanilla ice-cream topped with crushed walnuts.
14